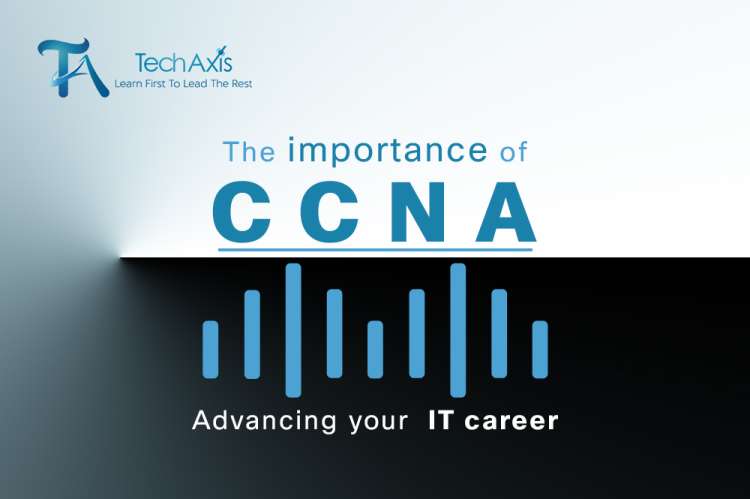 The Importance of CCNA: Advancing Your IT Career
Are you looking to advance your IT career in Nepal? If so, you may be wondering how to stand out in a crowded job market and secure the best job opportunities. One way to differentiate yourself and demonstrate your technical knowledge and skills is through CCNA certification in Nepal.

CCNA (Cisco Certified Network Associate) certification is a globally recognized credential that validates your proficiency in network engineering and administration. In this blog, we will discuss the importance of CCNA and explore how CCNA certification helps you in the advancement of your IT career in Nepal. Keep reading.
What is CCNA Certification?
CCNA certification is basically a validation of your expertise in network engineering and administration. It is awarded by Cisco, a multinational technology conglomerate that provides networking hardware and software solutions. The CCNA certification is designed to equip you with the skills and knowledge required to install, configure, operate, and troubleshoot medium-sized routed and switched networks.
CCNA certification is highly regarded in the IT industry as it helps one to stand out from other candidates when applying for jobs.
Benefits of obtaining CCNA Certification
CCNA certification is an important credential as it provides you with a variety of benefits that help you advance an IT career in Nepal. Below are listed 5 key benefits of this Cisco certification.
Career Advancement
CCNA certification is globally recognized and it can open up new career opportunities and advance your IT career. CCNA-certified professionals are in high demand in various sectors, including government agencies, financial institutions, educational institutions, and telecommunications companies. With CISCO CCNA certification in Nepal, you become qualified for job roles such as network engineer, network administrator, and network analyst.
Moreover CCNA certification can be a stepping stone to more advanced Cisco certifications such as CCNP and CCIE, leading you to get higher-paying and more specialized job roles.
Improvement in Skills and Knowledge
CCNA exam preparation can enhance your skills and knowledge in networking technologies. The CCNA test covers a broad range of topics, including routing and switching, network security, and network management. It's a great way to gain expertise in these areas and benefit your current and future roles.
Industry Recognition
CCNA certification, being a globally recognized certification, is highly respected in the IT industry. It demonstrates that you have a strong understanding of networking concepts and are proficient in configuring and troubleshooting Cisco networking devices. It helps you stand out from other candidates and attract potential employers.
Better Job Security
CCNA certification provides you with better job security. As technology continues to advance, the demand for skilled IT professionals who can manage and secure networks is increasing. Cisco CCNA certification can help you stay ahead of the competition and provide job security in the rapidly changing industry.
Higher Salary
A CCNA certificate can increase your earning potential. According to >Payscale, the average salary for CCNA-certified professionals in Nepal is NPR 400,000 per year which is significantly higher than the average salary for non-certified professionals.
How to Prepare for the CCNA Certification Exam?
Preparing for the CCNA certification exam requires a lot of dedication and effort, but the rewards it has to offer are certainly substantial. You can follow the following steps to prepare for the CCNA certification exam and take your career to the next level.
Learn the Exam Topics
The CCNA certification exam covers a range of networking topics, including routing and switching, network security, and network management. It's important to understand the exam topics and ensure that you have a strong understanding of them. Cisco provides a detailed exam blueprint on its website, which outlines the topics and skills that will be tested on the exam.
Gain Hands-On Experience
In addition to theoretical knowledge, the CCNA certification exam is designed to test your practical skills in networking. Set up a home lab or virtual lab environment as it will help you gain practical experience configuring and troubleshooting Cisco networking devices. Taking a CCNA training course is another best way to get hands-on lab experience in a guided setting.
Use Proper Study Materials
It is important to have the right study materials to prepare for the CCNA exam in Nepal. You must choose materials that align with your learning style and needs. Cisco provides official study materials on its website, including books, online courses, and practice exams. We recommend you the following study materials on the website,
Practice, Practice, Practice
Practice is key to CCNA certification success. Taking practice exams can help you identify areas where you need improvement and become familiar with the exam format. We recommend you practice with networking devices in a lab environment as it helps you gain practical experience and reinforce your theoretical knowledge.

Refresh Your Knowledge Right Before the Exam
In the days leading up to the exam, you must review the material and refresh your knowledge. This will help you retain information and feel more confident on the day of the exam. It's important you take breaks and give yourself time to rest during exam preparation. Overworking may lead you to perform poorly as it may disturb your physical and mental health.
Wrapping Up
A CCNA certification can give you an edge in advancing your IT career in Nepal. It plays a vital role in gaining practical networking skills and validates your expertise in networking technologies. It is a valuable investment to advance your career and increase job opportunities with a high salary.
TechAxis is a reputed IT institute that offers a quality CCNA certification course in Nepal. We provide you with the necessary knowledge and practical experience to pass the certification exam. Our experienced instructors and hands-on approach leave you with the best CCNA course in Nepal. Enroll and begin your CCNA certification training now.