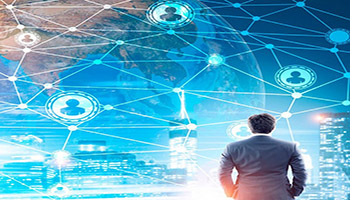 Networking Career and Scope in Nepal
As modern society is becoming more technologically advanced every next day, there certainly have been radical changes in the networking paradigm holding this global advancement. Most companies this decade are using computers to operate the business, and these computers are connected to share resources and information. IT companies in Nepal of any kind operate exclusively in a similar format, so they know the absolute importance of Networking.
Computer networking is the base of every technological component that is present out in the world. With security, resiliency, scalability, modularity, and virtualization on line, the role of a networking specialist has never been more indispensable than it is now. These factors all add up for the necessity of honing up the networking professionals in Nepal of top quality. The CCNA/ CCNP/ CCIE certification is making its way to be in the fundamentals of any IT job in Nepal. So, don't be the one to linger in this dynamically evolving world and join us to learn from some of the best in the Computer Networking World.
Networking itself mightn't be the big job-seeking name in IT, but it is a necessary skill to possess for excelling in other major career fields. Studies show that Networking skills are most sought after additional training or qualification segment in your resume for over 70 % of IT jobs in Nepal. However, you can master the skills in Networking to go after some major and highly remunerable networking jobs in Nepal. Here are some appealing computer networking Jobs to aim for in Nepal as of today.
Cloud Networking Architect
Well, networking architects topping our list was almost inevitable, but this one sub-division is indeed ranked top amongst overall high-level IT career to pursue in Nepal. One has to be well equipped with all the networking skills as well as up to date with modern technology to be eligible for being a cloud networking architecture. You're basically an IT specialist responsible for strategizing for installation, implementation, and continuity of cloud computing in the company. Hence, your role is vital for enhancing business productivity and overall profitability. Sound knowledge of cloud computing is a must if you are aiming to be a Cloud Networking architect in Nepal.
Wireless Network Engineer
Going wireless is the new way of running things as the study shows a hockey curve rise of IT companies adopting wireless technologies in Nepal. This will soon be followed up by commercial and all level of business organization in the coming days. There is no doubt that the rising demand for wireless network engineers will pop up soon. Honing your skills with CWNE (Certified Wireless Network EXPERT) and CCIE (Cisco Certified Internetwork Network Expert) certification will make you amazingly fit for the job. The primary work of Wireless Network engineer are:-
* Design, plan and monitor the installation as well as the implementation of wireless technologies.
* Ensure appropriate integration and optimize the network products in various networks
* Perform regular audits with error detection and handling in different network parameters.
Network Security Engineer
In this digital era, security doesn't just mean securing any attack but ensuring the future possibilities of similar problem and handling of proper backup for quick attack recovery too. A network security engineer looks after securing the entire network, but there are different tasks one has to be able to perform related to security as: -
* Regular monitoring and upgrade of network constituents for vulnerability and possible malware
* Maintaining WAN, LAN, and overall server architecture
* Maintaining VPN, firewalls, email security, and web protocols
* Modifying regulatory system with IT security
Network Manager
A network manager can choose to work in the house or depending on personal preferences with a range of clients of the company. You will have major involvement in the significant projects of your company to provide the first-hand technical support. As one of the most sought IT professionals in Nepal, you can be a consultant after retirement as well. The most beneficial of these all is that you can get a high amount of working flexibility and can be the deciding factor in the smooth running of a company. A network manager must also have basic knowledge of other IT fields, and you are supposed to have strong leadership skills too. The major skills/tasks as a Network Manager is listed below.
* Handle the recovery plans in case of system problems as well as developing the new system
* Installing and maintaining a company's computer network.
* Training the staffs and binding the technical and non-technical components of a company
* According to the size of the company, you must look over the sub-networks of multiple departments as well.
Telecommunication Specialists
Telecommunication (Telecom) specialists play an essential role in the smooth flow of information throughout the organization and the clients as well. Networking skills are vital and are always the foremost skill that companies seek to during the hiring process of Telecom Specialist. Similarly, the roles grow drastically if you are looking for a leap as a professional in Telecommunication firms. Each year the major Telecom companies (NTC, Ncell, UTL, CG and more) have vacancies for Telecommunication Specialists where you can work in big national projects.
* Installing and repairing the lines combining computer technology and communication
* Managing data and video communication systems
* Auditing and checking the equipment to operate successfully after installation
* Testing lines, maintaining system records and supervise the use of gadgetry.
Data Center Networking Specialist
A data center networking specialist is one of the networking jobs which has the best remuneration alongside responsibilities. Similarly, the skills required need to be perfect as well, which includes additional hardware and computer database handling. Likewise, you are a core participant in stimulating the advance data-center architecture, which provides a rise in stability, performance, and accessibility of the company. Data centers in Nepal are increasing every year, and it's your turn to shine with the best Data-center networking skills. The major jobs a Datacenter Networking Specialist has to do are as follows:-
* Monitor, modify, resolve issues, and make enterprise back-up system recommendations.
* Managing the network constituents and infrastructures inside a data center
* Installing and troubleshooting data network issues
* Maintaining offsite backup media processes and server equipment
Tutor (Computer Networking)
Well, it's clear that the vacancies in networking fields are in a rising trend, and lack of skilled human resources is affecting it. You can tutor the newcomers providing the ideal base for networking future of Nepal. As a professional, you can pass your skills in different IT training institutes in Nepal.
Skills/Technologies required for achieving professionalism in Networking
Networking (CCNA/CCNP/ CCIE)
These set of five levels of certifications in different categories offered by Cisco Systems is a must for pursuing any computer networking career. From the entry-level certifications to Technician, Associate, and professional level, you can join these courses for honing and showcasing your networking skills.
Linux Fundamentals
The number of network operating system based on Linux is in rising trend because of it providing more and more access to system internals. Similarly, the impact of Linux-based projects like Openstack, Docker, and Kubernetes in the IT space is significant. So, Linux fundamentals are a must if you are looking to dive deep into the networking technology. Join our LINUX course to kick-start your networking career.
Git
Git plays a significant role in version control, and it also allows us to manage what we do in different ways. Securing your git repository, you can use git to manage every sort of configurations (core routers, firewall access, data change, and control too). Make a habit of using Git even for your small projects.
Python
Sound knowledge of any programming language is beneficial for high-level computer networking. Python basically provides two-level access to network services, so you don't have to learn everything at once. Starting from the basic socket support n underlying operating system, you can move to higher specific application-layer network protocols (HTTP, FTP, and more). Join the Python course by TechAxis to get a proper base for network programming.
Higher Level Automation Tools (Ansible/ Bash/ Make)
Network system and devices can now be included in overall automation with the new Higher Level Automation Tools (Ansible/ Bash/ Make) for a holistic approach to application workload management.
Cloud skills (AWS/Azure)
* For creating a strong background in cloud computing and similar technical area. Having knowledge and basic implementational ideas of front end/back end platforms, cloud-based delivery, and the overall network is healthy for any computer networking related professions throughout the world.
Soft Skills
Soft skills develop over time. You might learn from your higher-ups and colleagues to learn the following soft skills for higher-level works in Computer Networking
-Leadership Skills
-Teamwork
-Communication Skills
-Problem Solving Skills
-Work Ethic
-Flexibility/Adaptability
-Interpersonal Skills
If you are looking for a career in networking in Nepal, completing the general CCNA course is a must. With TechAxis, we provide you the best training and technical course from the best professionals from the field of Computer Networking. Get your entry-level credentials with our CCNA certifications, and learn more with our other comprehensive Red Hat Linux, DevOps, and Database management courses.